Welcome to Ridge Creek
The Central Valley's Home for Heathland Golf
Ridge Creek Dinuba Golf Club is a premium Daily Fee course owned by the City of Dinuba.
Located 30 minutes south of Fresno, CA, we are the only public course in the area offering Championship tees,
and one of the longest Par 5s in California at 653 yards.
Full service Clubhouse, Three Finger Jack's, is open daily for breakfast, lunch and dinner.
Ridge Creek is also available for private events and weddings.
Call (559) 591-2254 for more information and assistance.

Mother's Day Brunch Buffet
Our annual Mother's Day Brunch buffet is offered Sunday, May 10th, from 11 am to 3 pm.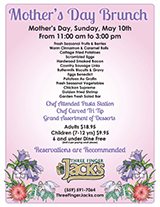 Click here to view our menu.
Reservations are strongly encouraged, call Three Finger Jack's at (559) 591-7064

Ridge Creek Trip Announcement & Top 32 Update
Click here to view Top 32 updated through April 1st, 2015

Final Top 32 are determined Close of Business, May 31st, 2015.
Ridge Creek Dinuba Golf Club is happy to announce the location for our 2015 Top 32 Members Trip.
OLIVAS LINKS
Located in Ventura, California, a KemperSports Facility.
Click here to view more
Dates of play are Tuesday, July 7th and Wednesday, July 8th.
Acommodations, Golf, Prizes and Meals are hosted by Ridge Creek Golf Club.